Customized for iPhone and iPad users
Our exclusive iOS application, designed specifically for EarthCam.net clients, allows you to view and control your private video cameras from around the world in real-time over WiFi, 4G, 3G and EDGE.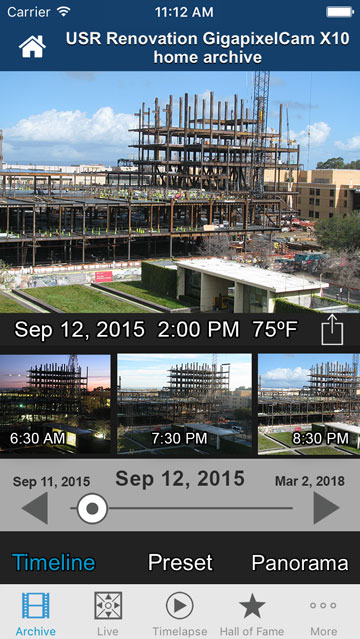 Download today and take advantage of these features:
Easy access to live streaming video that you control via swipe, pinch, pan, tilt and zoom. Access presets and wiper functions, as well as 360° panoramic views anytime, anywhere
Instantly stream auto-generated time-lapse movies, creating a dynamic presentation of your project
More ways than ever to quickly access project archives, including the smart, visual timeline navigation tool
Gain instant access to vital data about your camera's power source, network connection and location, which includes valuable weather details
EarthCam's innovative "Hall of Fame" is now available for Control Center 8. Post and share your favorite jobsite images private or publicly through Facebook, Twitter, Instagram and your website to promote your organization
Your password details are saved securely, allowing you to access your camera with one touch. To learn more about EarthCam's Control Center Software, visit http://www.earthcam.net/software.
More features are on the way so watch for updates.
Please note, Control Center 8 is only supported on iOS 9 and above.