Better Lives Through Visual Information®
Complete webcam technology solutions and world class customer service.
EarthCam is the global leader in providing webcam content, technology and services. Founded in 1996, EarthCam exists to encourage exploration, foster discovery and connect people through innovative live camera technology.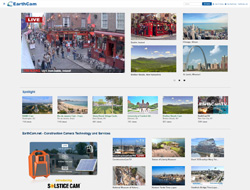 EarthCam.com, the global network of owned and operated live streaming webcams, was built as a way to transport people to interesting and unique locations around the world that may be difficult or impossible to experience in person. Providing a virtual window to the world, viewers can freely explore the globe from unparalleled vantage points, such as the torch balcony of the Statue of Liberty, which has been closed to the public since 1916. EarthCam.com derives revenue from advertising and licensing of its proprietary webcam content.

The Webby Award winning company hosts many highly trafficked tourism cams, with views of popular locations and landmarks such as Times Square, World Trade Center, Statue of Liberty, Miami Beach, Bourbon Street, Temple Bar in Dublin, CN Tower, Atlantis the Palm Dubai and Abbey Road Crossing in London.
EarthCam.net provides webcam technology and managed services consisting of live streaming video, time-lapse cameras and 360° reality capture for corporate clients and government agencies in major cities around the world. EarthCam systems meet the demands of projects of all sizes with the largest selection of reliable hardware powered by proven easy-to-use software that empowers our customers to manage jobsites remotely, document compliance and generate positive public relations. With applications in the construction, education, transportation and entertainment industries, EarthCam leads the industry with the highest resolution cameras available to document projects from the space, air and ground, including the world's first outdoor gigapixel panorama camera system. This patent-pending technology delivers superior billion pixel clarity for monitoring and archiving important projects and events across the globe.
EarthCam also provides the industry with innovative UAV and aerial imagery services. EarthCam Air combines EarthCam's powerful webcam technology with UAV services, cloud-based storage solutions and distribution tools. EarthCam has developed a geospatial mapping platform, resulting in a comprehensive analytical report with countless benefits.

EarthCam has documented over a trillion dollars of construction projects around the world. Every day, smart organizations are utilizing EarthCam to engage customers, highlight accomplishments and promote innovation. Projects documented by EarthCam include: Hudson Yards, Panama Canal Expansion, 9/11 Memorial Museum, Atlanta Falcons' Mercedes-Benz Stadium, Golden State Warriors' Chase Center, Statue of Liberty and Washington Monument Restorations, Governor Mario M. Cuomo Bridge, LaGuardia Airport, The Jeddah Tower, 56 Leonard Street, 432 Park Avenue, Los Angeles Rams' Stadium, Las Vegas Raiders' Stadium, Qatar Rail, Whitney Museum of American Art, Louvre in Abu Dhabi and Smithsonian National Museum of African American History and Culture.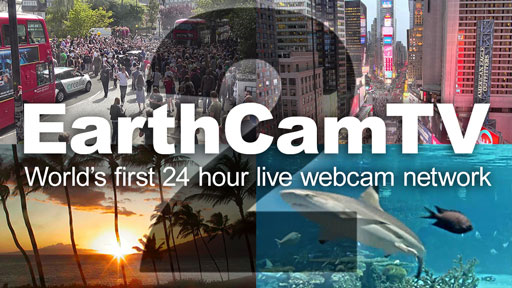 EarthCamTV is EarthCam's 24-hour live streaming channel featuring unique webcam content in a programmed lineup. EarthCamTV features the best views from the webcam network's collection of global cameras, where living digital wallpaper seamlessly transitions from one picture postcard view to the next. EarthCamTV 2 is now available on Sony devices and is one of the premiere apps on Apple TV and Amazon Fire.
Contact Us - Shop local with EarthCam's Regional Offices. EarthCam has knowledgeable product specialists throughout the world. Our team of experts look forward to providing a solution to document and time-lapse your important projects.


EarthCam World Headquarters
650 E Crescent Avenue
Upper Saddle River, NJ 07458
800-327-8422 (800-EARTHCAM)

International
Contact us for a list of
distributors in your area
+1-201-488-1111

---
PACIFIC REGION
Los Angeles, CA
818-304-8760

San Francisco, CA
510-355-0123

San Jose, CA
408-701-0700

Seattle, WA
206-535-1440

San Diego, CA
619-348-6325

MIDWEST REGION
Chicago, IL
312-239-3131

Cincinnati, OH
513-318-4855

Cleveland, OH
216-294-4268

Columbus, OH
614-600-2842

Indianapolis, IN
317-559-0131

Minneapolis / St. Paul, MN
651-964-3201

NORTHEAST REGION
New York, NY
646-652-5813

Boston, MA
617-453-2277

Philadelphia, PA
215-621-8947

Rochester, NY
858-978-3719

Upper Saddle River, NJ
201-488-1111

MOUNTAIN REGION
Denver, CO
303-557-5899


SOUTHWEST REGION
Austin, TX
512-410-2259

Dallas, TX
214-233-7733

Houston, TX
832-603-4194

Phoenix, AZ
602-749-2020

SOUTHEAST REGION
Atlanta, GA
404-585-5664

Birmingham, AL
205-545-7701

Jacksonville, FL
904-368-5831

Miami, FL
786-541-2111

Orlando, FL
407-587-0008

Raleigh, NC
919-874-1554

Washington, D.C.
202-827-0300