Introducing 360° Reality Capture
EarthCam's VR Site Tour App is the perfect DIY 360° reality capture solution for documenting interiors. Capture interactive 360° images and have them automatically assembled into a virtual tour of your project within Control Center 8 software. All images are geo-tagged using EarthCam's IPS (Image Positioning System) to properly align photos to your site plan. The process is easy for every day VR inspections from your desktop. With our app, you can share jobsite information that is simple to analyze in a cost-efficient way.
VR Site Tour
While other photography solutions require professional photographers and several phases of time-consuming post-production editing, EarthCam has taken 6 processes and reduced it to one simple step with its improved photography interface and mobile app. This do-it-yourself efficient imaging technology eliminates the need for costly photography services and is a smarter way to communicate progress. Document your interiors and create short-term time-lapse videos. Convert a day's worth of progress into quick, easy-to-share 10-second time-lapse video bursts and sync them directly to site plans and BIM 3D models.

Getting Started with VR Site Tour
---
Getting Started with VR Site Tour
1. Download VR Site Tour App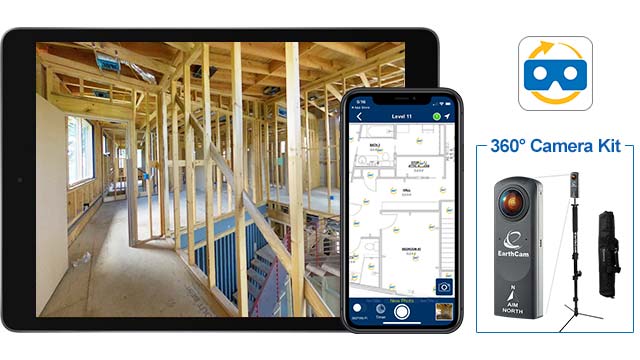 ---
2. Walk Your Jobsite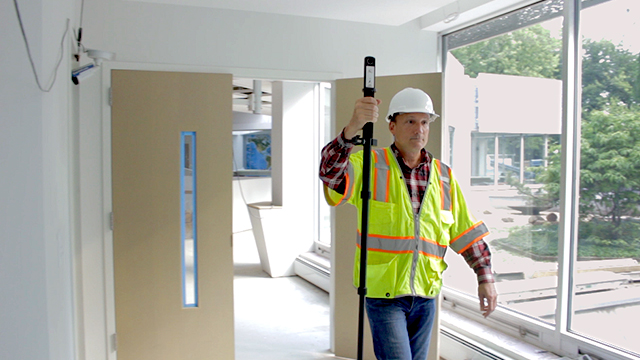 2. Walk Your Jobsite
Once the app is downloaded, connect the 360 Camera to quickly capture "street view" images. Associate voice notes or markups with the images to convey progress or detail issues via the VR Site Tour app.
---
3. Share a Guided Tour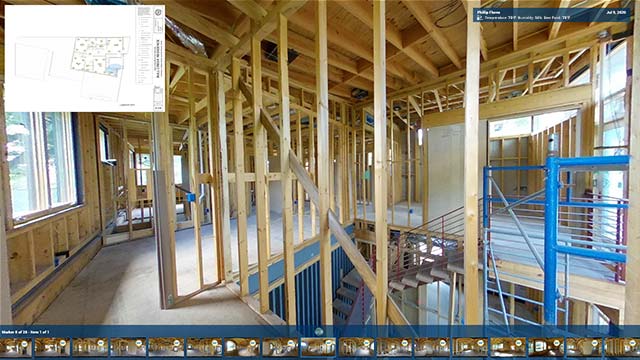 3. Share a Guided Tour
All 360° images are automatically assembled into a guided tour of the project, giving users the ability to remotely monitor and inspect each room with a click of a mouse or the tap of a VR headset. These detailed visual images create an indisputable record of as-built and pre-existing conditions.
---
---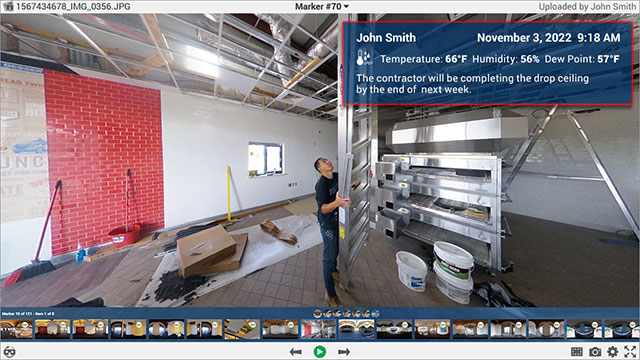 Capture cost-effective, detailed images of interior build-outs with ease. Instantly share "street view" images that are geo-tagged to site plans for comprehensive progress updates. One 360° photo captures all four walls, floor and ceiling, providing as much information as 8 separate traditional photos.

Learn more about Photography Documentation
---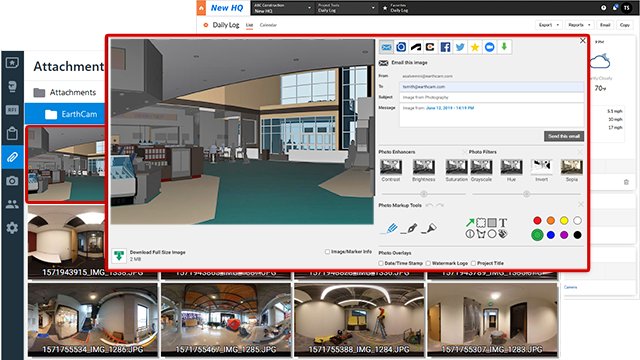 Leverage the power of EarthCam and third party project management solutions providers such as Procore, Autodesk BIM 360 and PlanGrid. Within your platform of choice, you can attach 360° reality capture solutions to verify jobsite conditions visually. EarthCam's integrations allow your jobsite imagery to be more than just photos. Automate image uploads to specific areas in Procore's Daily Log, embed media to Autodesk BIM 360 Partner cards or attach images to PlanGrid RFI's.

Visit our partners page for more information
---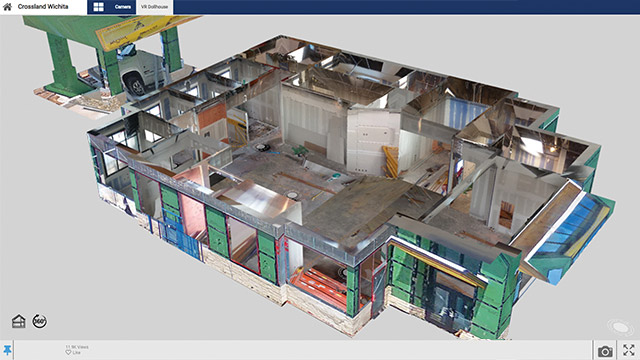 VR Dollhouse views are created by merging 360° photo content with Navisworks or Revit models for a new way to walk the jobsite. Previously, generating these views required time consuming and expensive scans. Quickly assess jobsite progress, resolve disputes and communicate with stakeholders using remote fly-through navigation and gamified controls. Increase the value of your 360° photography, by accurately incorporating it with 3D models.
---
Compare As-Built to As-Designed Conditions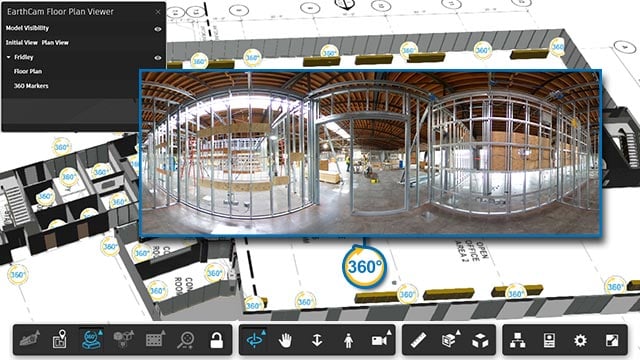 Compare As-Built to As-Designed Conditions
The convergence of live jobsite cameras, AI and 360° reality capture using EarthCam's powerful Autodesk integration streamlines your schedule management and lets you answer questions about clashes in near real time. Markup images to share detailed observations or create a time-lapse to highlight progress. Create a cohesive library of archives for image comparison with your 3D BIM models. Supported model formats include Revit, Navisworks and SketchUp.
---