EarthCam Empowers Autodesk Solutions with Visual Information
Transforming the collaborative landscape in the construction workspace
The Power of Integrating Imagery and Intelligence
EarthCam, the leader in webcam technology, and Autodesk, a leader in 3D design, engineering and entertainment software, provide a powerful solution by integrating high-quality construction cameras and 360° VR imagery into a common, smart platform.



Autodesk User? Log in here
---
Autodesk users now have access to their EarthCam live jobsite cameras, time-lapse movies and EarthCam-infused BIM 360 models as part of its new Partner Card. EarthCam is making its versatile and cross-platform content readily available to support a lean construction environment. Virtual Design and Construction (VDC) teams can leverage EarthCam cameras already on the jobsite to gain a greater insight into the project process using real-time media.
Click here to learn more
---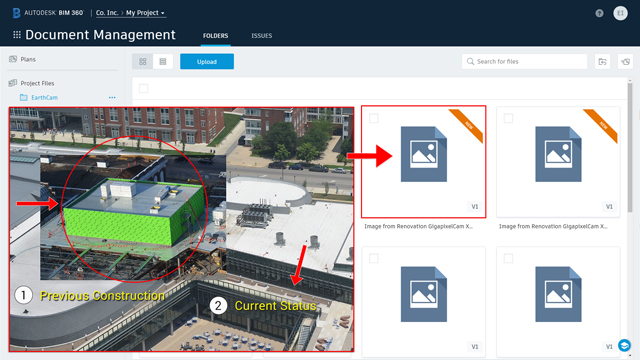 Share Directly to Autodesk BIM 360 Hubs
EarthCam's customers have multiple ways they can share webcam, 360° VR photography and video content directly to documents and Autodesk BIM 360 hubs for a media-enhanced view of any Autodesk BIM 360 project.
---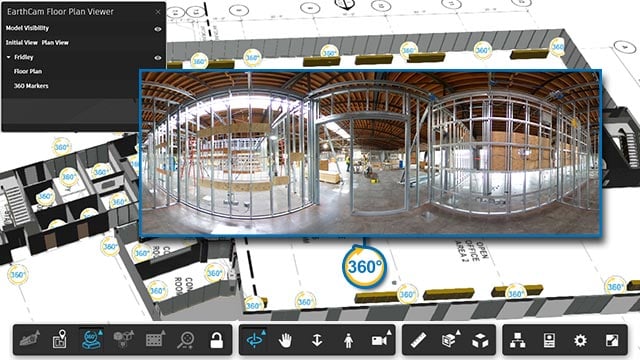 Compare As-Built to As-Designed Conditions
EarthCam's software supports 3D models, including Autodesk Navisworks and Revit. Users can view their EarthCam jobsite cameras and imagery in relation to 3D models, perform as-built to as-designed image comparisons and execute measurement functions between webcams images, 2D plans or 3D models.
---
NEW

AI Image Capture Alignment

BIM 360 users can now automatically align 360° reality capture photos to create a cohesive library of archives for image comparison with 3D BIM models. Once aligned using AI technology, users can markup the images to share detailed observations or create a time-lapse to highlight progress.
---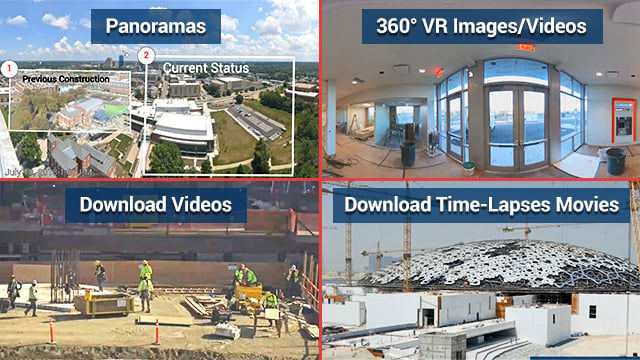 Webcam Imagery, 360° Reality Capture, and AI-Edited Time-Lapse Videos
With EarthCam's image comparison, enhancement filters and mark-up tools, users have numerous options to highlight changes and call out specific areas of interest directly on to photos. In addition, gigapixel panoramas and presentation-ready AI-edited time-lapse videos can be instantly shared from the EarthCam interface within the Autodesk platform.
---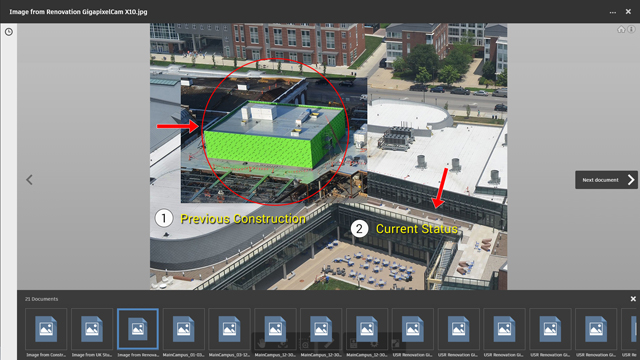 Visual Communication
The project team can make additional observations related to the photos directly within the Autodesk BIM 360 platform, creating one central interface for easy and efficient content management, organization and team collaboration.
---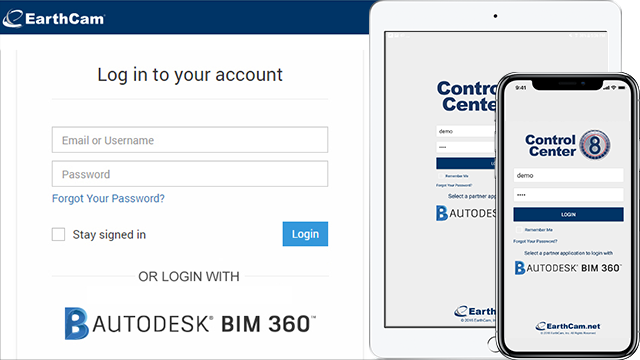 EarthCam has implemented single sign-on (SSO) for Autodesk. Users now have the ability to access and view their EarthCam construction camera content in BIM 360. Note: You must be an EarthCam managed services client in order to login using your Autodesk user name and password. For assistance with creating a new EarthCam Control Center 8 account, click here.
---
NEW

Add Images to RFIs

Request-for-Information (RFIs) can now include images for upload to PlanGrid. These data-rich photos, including telemetry from a local weather station, can be easily shared with team members improving the project's overall communication, reporting and analysis.
---