Merge Imagery and Intelligence, Gain New Perspectives
Transform collaboration in the AEC workspace
Next-Level Integration for Visual Information
Merge real-time webcam imagery with Autodesk Build, BIM 360, and PlanGrid to create new intelligent perspectives of jobsites. Combine high-quality construction cameras and 360° VR imagery into Autodesk's common, smart platform. Generate a cohesive library of live and saved imagery in relation to your Autodesk 3D Model.
To learn more, download the Autodesk Integration brochure.



Autodesk User? Log in here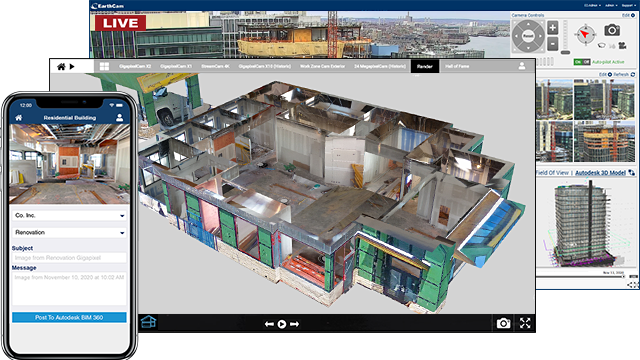 "The relationship between Autodesk and EarthCam is creating new innovative and valuable insights that enable VDC teams to make better more timely decisions that eliminate mistakes, reduce costs, keep projects on schedule and improve the safety of the construction site for everyone."
- Jim Quanci, Senior Director, Developer Advocacy & Support at Autodesk
---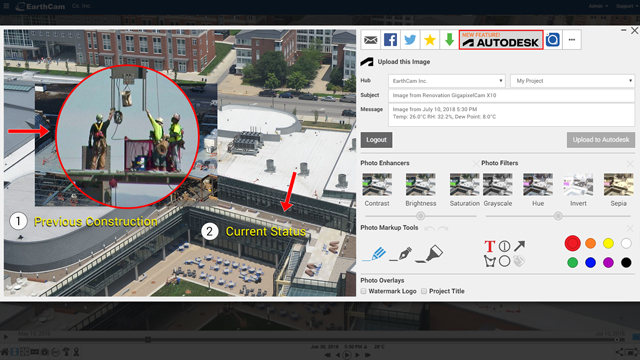 NEW!

Share Directly to RFIs, or Autodesk Build

Deliver webcam, 360° VR photography and video content to Autodesk Build, the new project and field management solution. Upload actionable visual information directly to Build, or Autodesk BIM 360 hubs for a media-enhanced view of any project. Augment RFIs with objective, photographic evidence. Push images directly to an RFI in either Draft or Open status so contextual data or annotations can be added before it is sent to the reviewer.
---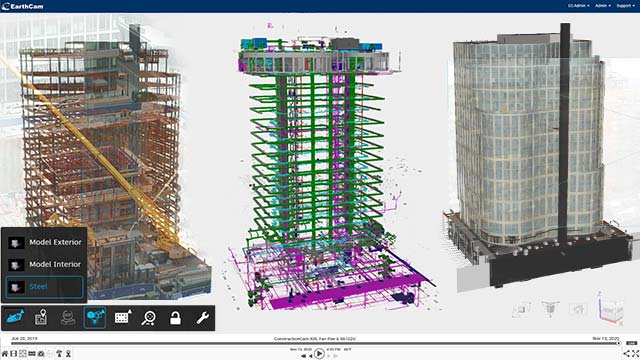 View Builder Control Interface
Customize, create and save different layered views within the Forge Viewer. Superimpose images and video over your choice of 3D model layers. Drill down into layers and model branches to select the exact 3D model components to incorporate with your imagery. Quickly present the most relevant model layers with real-time video to support daily reports. Prove that milestones have been reached by using merged images and model layers to show as-built conditions.
---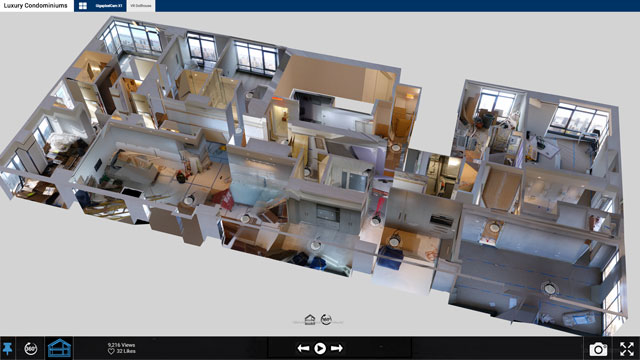 VR Dollhouse views are created by merging 360° photo content with Navisworks or Revit models for a new way to walk the jobsite. Previously, generating these views required time consuming and expensive scans. Quickly assess jobsite progress, resolve disputes and communicate with stakeholders using remote fly-through navigation and gamified controls. Increase the value of your 360° photography, by accurately incorporating it with 3D models.
---
Upload EarthCam visual data directly to PlanGrid Tasks or Issues. Actionable items, supported with imagery, can be assigned to project team members to fast-track understanding about what work needs to be completed, and by when, promoting collaboration and avoiding delays.
---
AI Image Capture Alignment Service
Upload your 3D models to EarthCam and have all your webcam images and live camera assets automatically overlaid and aligned. Precisely integrate your 3D models with webcam, 360° VR, drone, map and video content. Access powerful media-enhanced views of your Autodesk BIM 360 projects and create a cohesive library of live and saved imagery in relation to your 3D model. Markup images to share detailed observations or create a time-lapse to highlight progress.
---
Access your live jobsite cameras, time-lapse movies and EarthCam-infused BIM models as part of EarthCam's new Partner Card. Use versatile and cross-platform content to support a lean construction environment. Virtual Design and Construction (VDC) teams can leverage EarthCam cameras already on the jobsite for greater insight into the project process using real-time media.
---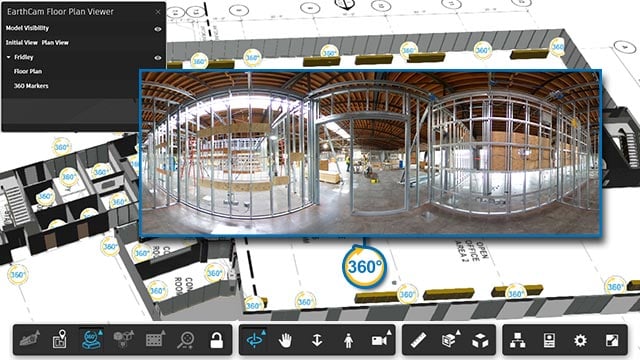 Compare As-Built to As-Designed Conditions
View your EarthCam jobsite cameras and imagery in relation to 3D models including Autodesk Navisworks and Revit. Perform as-built to as-designed image comparisons and execute measurement functions between webcams images, 2D plans or 3D models.
---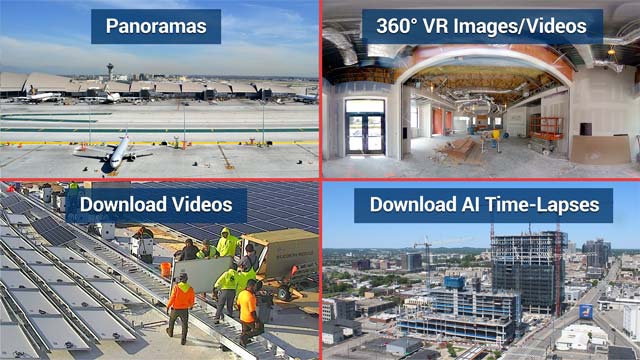 Webcam Imagery, 360° Reality Capture, and AI-Edited Time-Lapse Videos
With EarthCam's image comparison, enhancement filters and mark-up tools, you have many options to highlight changes and call out specific areas of interest directly on to photos. In addition, you can instantly share gigapixel panoramas and presentation-ready AI-edited time-lapse videos from the EarthCam interface within the Autodesk platform.
---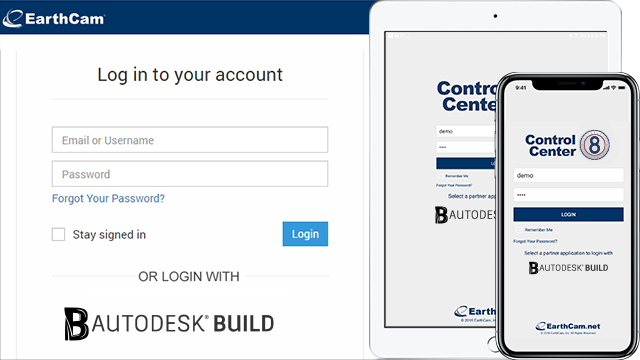 Access and view your EarthCam construction camera content in BIM 360 with single sign-on (SSO) for Autodesk. EarthCam managed services clients can login using their Autodesk user name and password. For assistance with creating a new EarthCam Control Center 8 account, click here.
---