Transform Building Information Modelling
Stay connected with your jobsite - get up-to-the-minute visual information
Highlight Clashes and Streamline Project Management
Expectations of the most innovative VDC teams have intensified recently. With EarthCam you can integrate real time video, 360° and Gigapixel imagery from your construction cameras with your BIM models to generate one smart platform. EarthCam's software fast-tracks collaboration, and lets you build a single-source environment for your entire project team no matter where they are.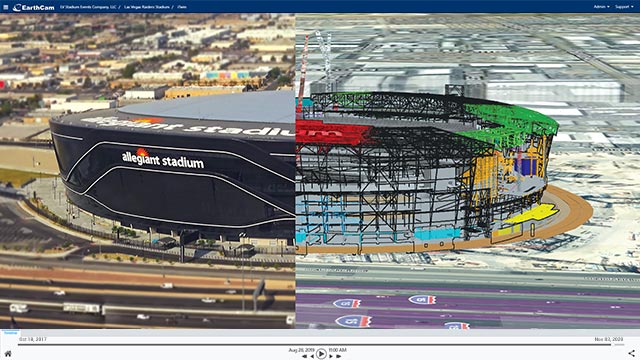 ---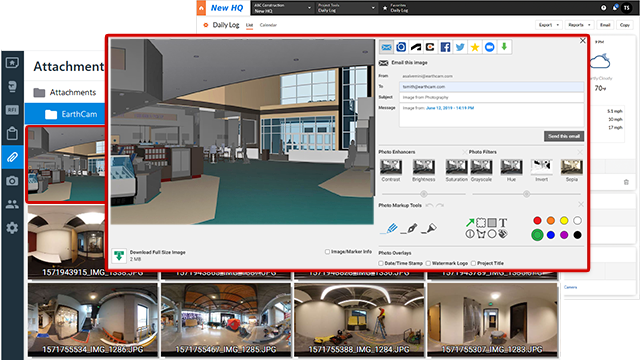 Leverage the power of EarthCam and third party project management solutions providers such as Procore, Autodesk BIM 360 and PlanGrid. Within your platform of choice, you can attach imagery from EarthCam's high-quality webcams and 360° reality capture solutions to verify jobsite conditions visually.EarthCam's integrations allow your jobsite imagery to be more than just photos. Automate image uploads to specific areas in Procore's Daily Log, embed media to Autodesk BIM 360 Partner cards or attach images to PlanGrid RFI's. In addition, EarthCam has created first-of-its-kind solutions to enhance jobsite safety and increased sustainability efforts on jobsites via partnerships with Triax Technologies and Rubicon Global.

Visit our partners page for more information.
---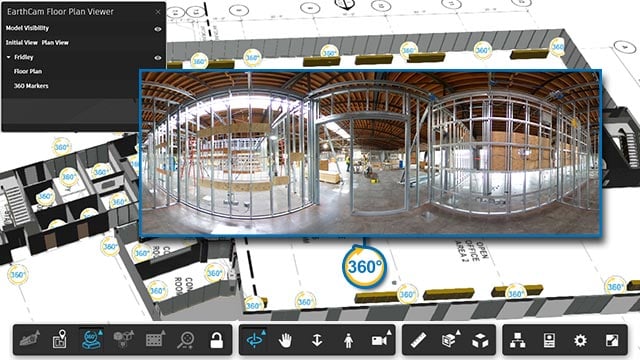 Compare As-Built to As-Designed Conditions
The convergence of live jobsite cameras, AI and 360° reality capture using EarthCam's powerful Autodesk integration streamlines your schedule management and lets you answer questions about clashes in near real time. Markup images to share detailed observations or create a time-lapse to highlight progress. Create a cohesive library of archives for image comparison with your 3D BIM models. Supported model formats include Revit, Navisworks and SketchUp.


---
Incorporate Unmanned Aerial Vehicle (UAV) geospatial imagery into your project documentation for unprecedented insight. Capture your project from all angles with EarthCam Air, and use Control Center 8 to efficiently integrate UAV data derived from computer-guided flight patterns into your 3D models.
---