Your Trusted Eyes on the Jobsite
AI advancements deliver relevant, objective imagery & data to Procore
Increase your ROI with the #1 site-camera solution. The 7th generation integration creates a visual information ecosystem within the Procore platform to increase productivity, and maintain a safe and secure jobsite. Add visual data to 100% of Procore's image-ready Daily Log sections. View live-streaming video in the Embedded App. Generate custom alerts based on predefined issues or events that need attention.



Procore User? Log in here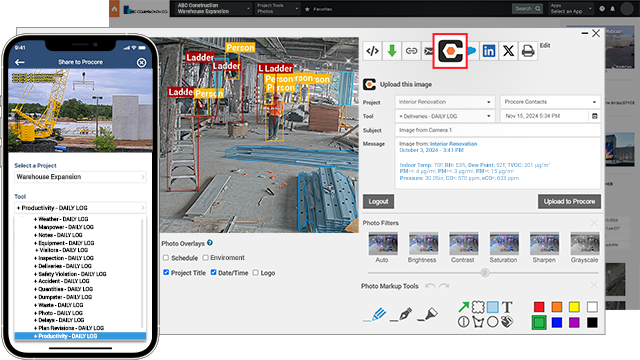 ---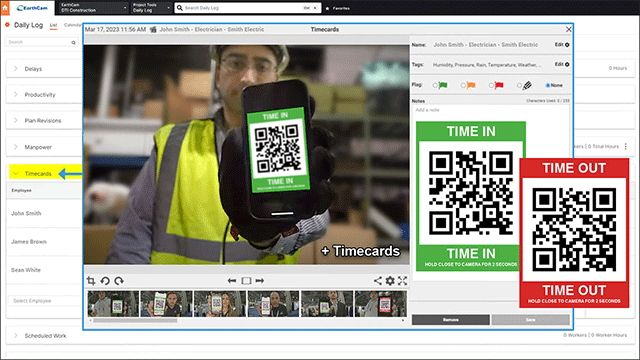 NEW

Access Control, Timecards, Visits & Deliveries

Show unique QR codes to door cameras to generate a permanent record of hours worked in Procore's Timecards Log. Time between clock-in and clock-out is calculated and aggregated in the Manpower Log. Doors can be locked or unlocked, and visits and deliveries photographed while automatically updating the Visitors or Deliveries Log.
---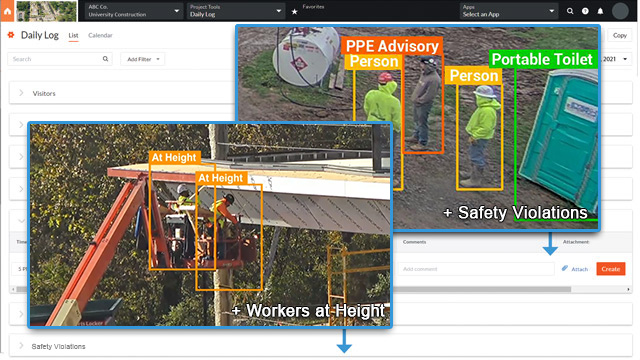 NEW

Document Workers at Height & Log Safety Violations

EarthCam's breakthrough AI detects when workers are operating at height, and whether PPE is being worn. Automatically record visual evidence of safe practices to the Daily Log, PPE advisories, Observations or Notes. Add details of inspections or infractions - including time, location and remediation steps to promote worker safety.
---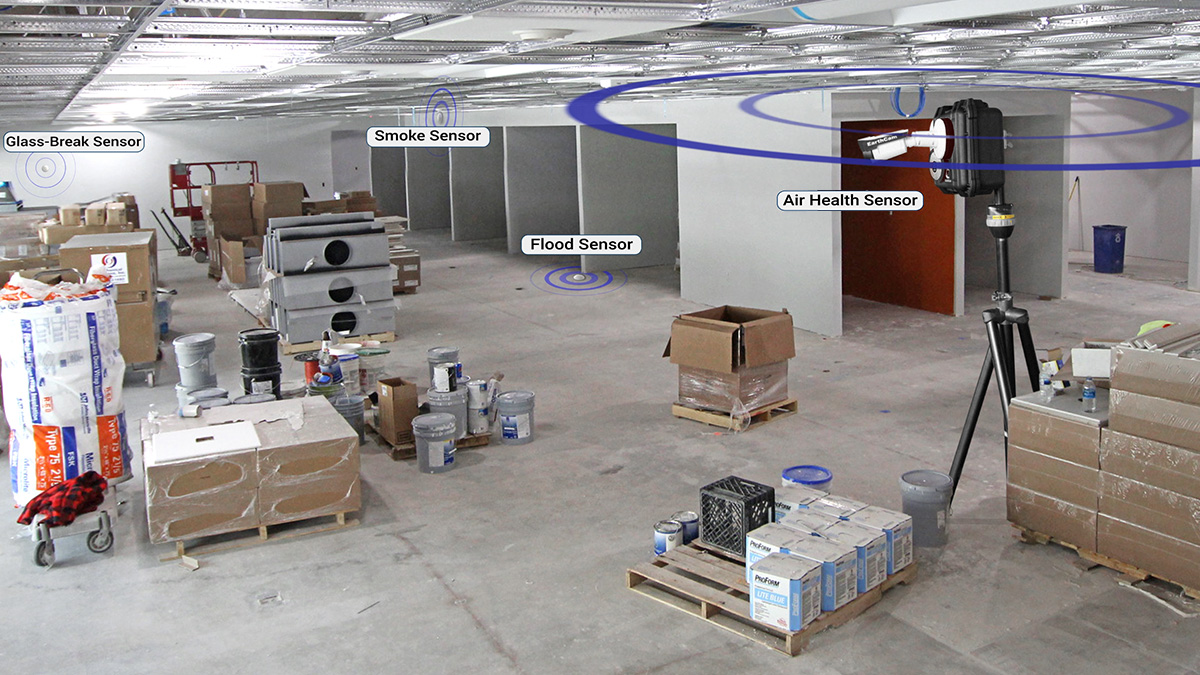 Utilize external sensors with EarthCam's IoT StreamCam 4K to document jobsite interior conditions and generate Observations within Procore in categories such as Spills or Stormwater. Configure alerts for flood, smoke and glass-breakage, plus more from an ever-growing list of IoT devices.
---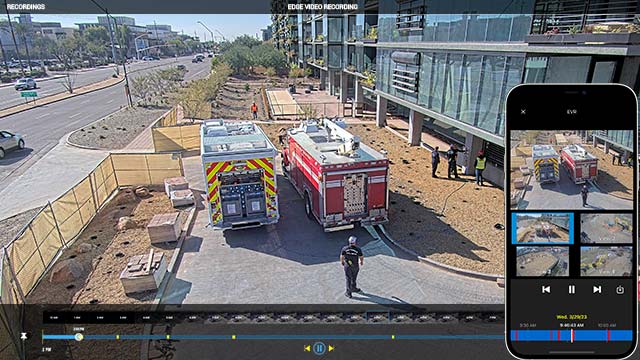 Record an entire project - capture continuous, encrypted video for more than a year with EarthCam's Edge Video Recorder. Easily access archival recordings with a timeline interface. View, trim and share video clips to Procore to document security incidents or other events.
---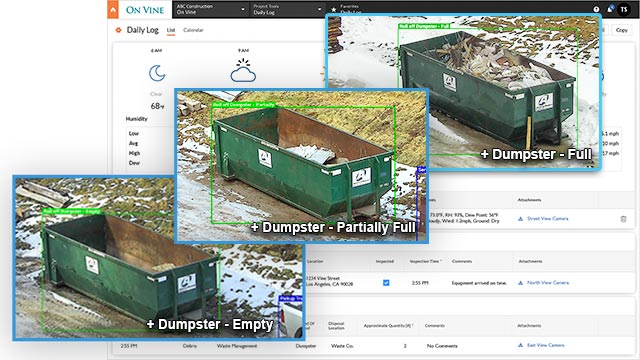 NEW

Track Dumpster Status with AI

Manage waste logistics utilizing AI Object Identification. Highlight when dumpsters are full, partially full or empty. Automatically send notifications with images to Procore's Dumpster Daily Log. Verify removal and cancel unnecessary pickups to maintain a safe, eco-friendly jobsite.
---
Daily Log Integration and Automation
Deliver new levels of informative visual data for security, safety, and progress reports. Automatically add imagery and data to Procore's Daily Log sections, including Weather, Notes, Equipment, Visitors, Deliveries, Safety Violations, Waste, Manpower, and Daily Construction Reports. Easily push visual data to Inspections, Accidents, Quantities, Dumpster, Photos, Delays, Plan Revisions and Productivity.
---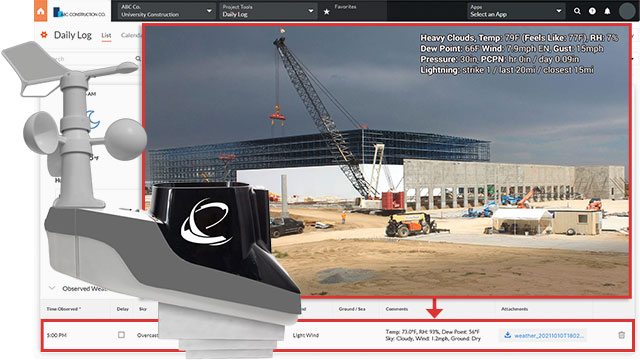 An onsite, wireless, solar-powered sensor array detects and calculates 16 points of weather and environmental data. This data is combined with NOAA observed conditions to predict and document weather events more accurately, and alert project management in seconds instead of hours.
---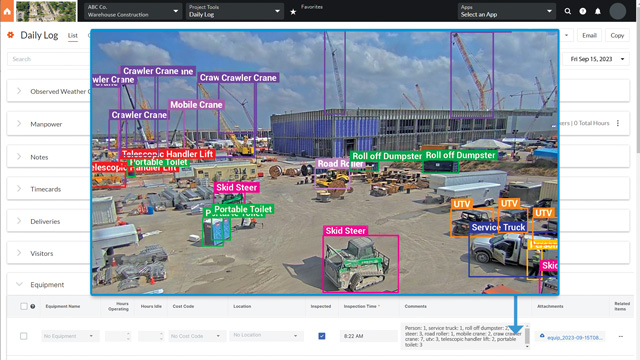 AI Powered Object Recognition for Safety Violations
AI-powered proximity detection lets you document when a vehicle and a worker, or two workers come into close proximity with each other. This is annotated and highlighted to provide impactful educational images for risk awareness, and close-call mitigation. Also create activity heatmaps, flag exclusion zones, or mark areas where no workers or equipment should be.
---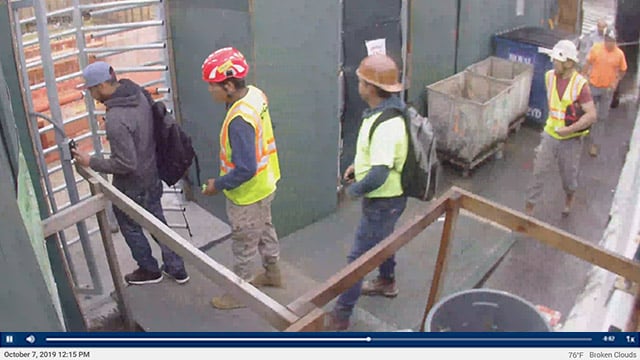 Document Worker Entry/Exit with Automated Video Clips
Auto-populate the Daily Construction Report with video clips accompanying perimeter entry/exit timestamps. Through EarthCam's integration with Triax Technologies' Spot-r suite of worksite solutions, video is automatically captured as each worker enters and leaves. Without leaving your Procore dashboard, view who is on-site, their trade, and other important data.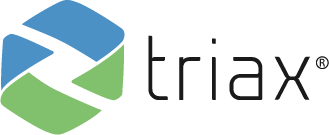 ---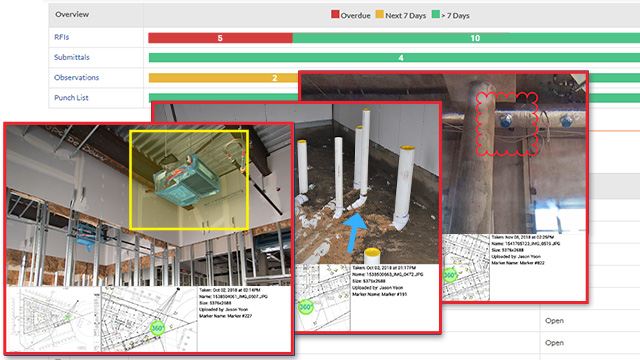 RFIs, Observations, and Change Events
Create a 'draft' or 'open' request for information (RFI). Add contextual data or annotations to an image before it is sent. Insert notes from EarthCam webcams, drones, 360° reality capture and EarthCam-infused 3D models to create action items in Procore. Provide visual evidence of conditions and keep forward momentum on the jobsite.
---
Embed live streaming video and high-quality webcam imagery by installing EarthCam's Embedded App, Broadway Media Player. Quickly switch between 4K live streaming video, highly-detailed gigapixel panoramas and archived security recordings. Share live-streaming imagery, 360° site tours, and AI-edited time-lapse videos all within Procore.

Visit the Procore Marketplace for more information.
---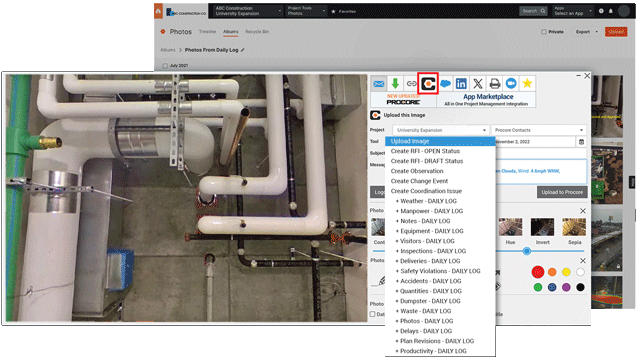 Communicate and Share Progress Updates
Access EarthCam's image comparison and markup tools. Compare historical progress, virtually going behind walls for a detailed look at construction processes. Call out areas of interest in photos and share observations in Procore "Albums", RFI's, Observation, Change Events and Daily Logs. Upload video and time-lapse movies for further insight.
---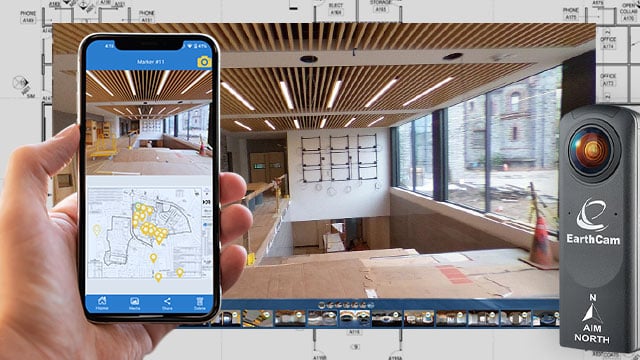 View Your Jobsite from Every Angle
360° photos, videos and time-lapse of jobsites add an interactive element. Users can pan around the jobsite for a comprehensive view. One 360° photo viewing walls, floor and ceiling provides as much information as 8 separate photos for a smarter way to communicate interior progress, while guarding against future claims and disputes.

For more information on 360° VR Kit, click here.
---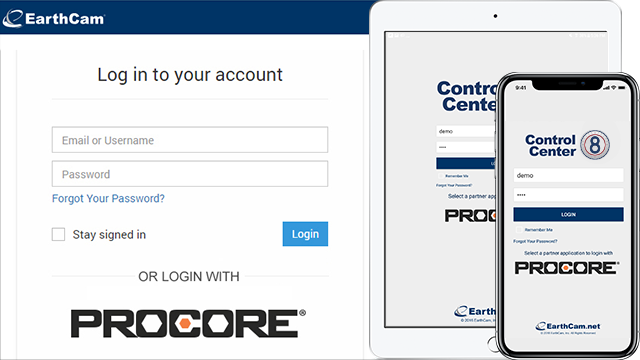 EarthCam has implemented single sign-on (SSO) for Procore. Users have the ability to access and view their EarthCam construction camera content in Procore. Please note, you must be an EarthCam managed services client in order to login using your Procore user name and password. For assistance with creating a new EarthCam Control Center 8 account, click here.
---