Driving Productivity for a More Informative Jobsite
Providing more value to shared clients through high-quality media and data-rich content
Increase your ROI with the number one site camera solution. EarthCam's unmatched integration with Procore brings users valuable features to enhance project management and jobsite productivity. Embed our Broadway Media Player. Create RFI's, change events and observations. Save time with Daily Log automation which includes hourly updates to weather, waste and equipment tracking. With continued enhancements to our integration with Procore, EarthCam is the site camera of choice to monitor, document and promote your project all within the Procore dashboard.
To learn more, download the Procore Integration brochure.



Procore User? Log in here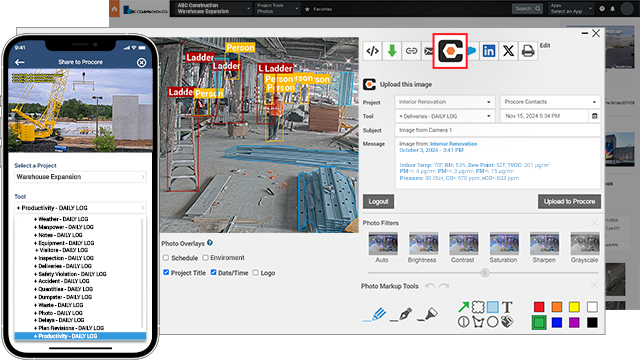 ---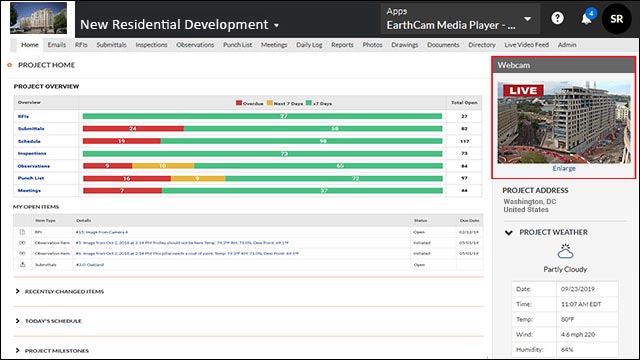 Integrate Live Video Into Dashboard
Embed your live streaming video and high-quality webcam imagery directly into your Procore dashboard. Click on the project preview window to view your content in a full-screen display for detailed monitoring and analysis. View multiple points of weather data at your jobsite for further intelligence reporting.

Visit the Procore Marketplace for more information.
---
EarthCam's Broadway Media Player is now available as an embedded app on Procore. Quickly switch between 4K live streaming video, highly-detailed gigapixel panoramas and archived security recordings. The new EarthCam-infused Procore experience extends the capabilities for sharing jobsite cameras, 360° reality capture site tours and AI-edited time-lapse videos all within Procore.

Visit the Procore Marketplace for more information
---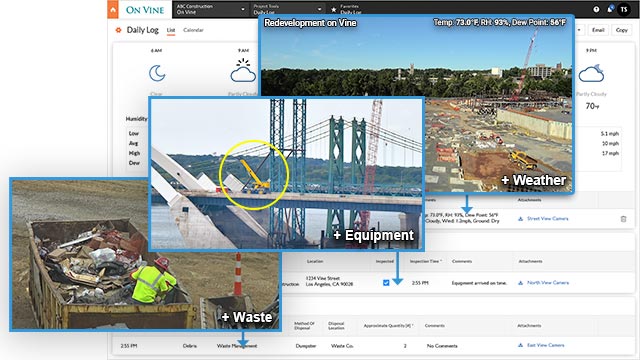 NEW

Daily Log Automation

EarthCam is creating a more efficient and convenient project management process with automatic data integration for weather, waste and equipment tracking. Maintaining a Daily Log of an active jobsite is both critical and requires significant effort. Understanding that importance, EarthCam is leveraging its high-quality cameras already on the jobsite to deliver new levels of informative data that affect the overall project management process.
---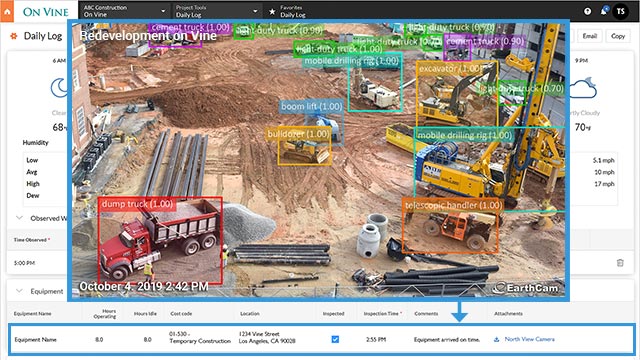 NEW

AI Image Recognition of Jobsite Equipment and Vehicle Tracking.

With the ability to detect up to 19 different vehicle classifications, Procore users now have a smarter way to provide visual inspections and populate log entries of the various equipment on the jobsite. Every hour, 24/7, a log entry is automatically created with a list of all detected equipment and an annotated photograph so visual verification can be performed to determine when equipment arrives onsite, is in use and when it is removed.
---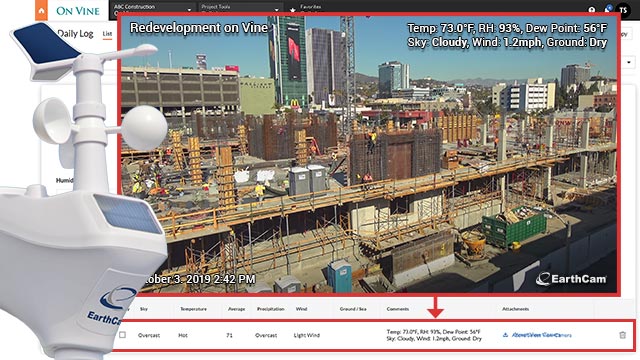 NEW

Jobsite Weather Station

The 4G LTE wireless, solar-powered sensor measures eight points of environmental jobsite conditions and combines them with EarthCam's live webcams and 360° reality capture imagery. The visually-enhanced data is then automatically uploaded into Procore's Daily Log. With 24/7 recording of environmental conditions for the entire jobsite, both inside and out, teams will benefit by saving time and generating a more accurate record, all within Procore.
---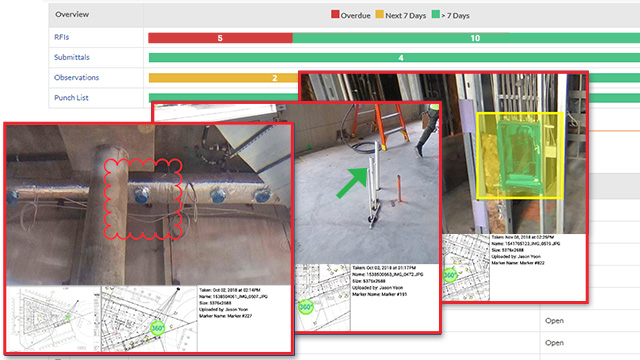 One-Click Tools for RFIs, Observations and Change Events
Streamline RFI, observations, change events and daily log submissions by utilizing EarthCam's innovative markup tools and images from site cameras that are already on the jobsite. Users can add specific notes from EarthCam webcams, 360° reality capture and EarthCam-infused Autodesk BIM 360 models to create actionable items within Procore. The data-rich imagery provides the project team with clear visual evidence of conditions and keeps forward momentum on the jobsite.
---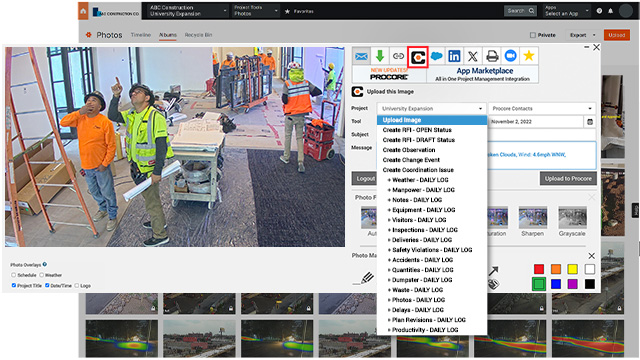 Communicate and Share Progress Updates
Procore users have access to EarthCam's image comparison and markup tools. Compare historical progress images, virtually going behind the walls for a detailed look at the construction process. Call out specific areas of interest directly on the photos and share your observations with the project team in your Procore "Albums", RFI's, Observation, Change Events and Daily Logs. Upload video recordings and presentation-ready time-lapse movies for further insight into the project process.
---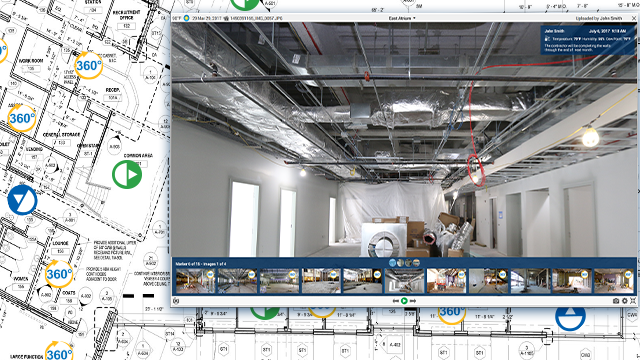 Procore users have the ability to import images from any of their Procore projects into EarthCam's photography documentation interface. Easily assign images directly to the corresponding site plan, floor or marker for instant progress updates. Added support via the EarthCam mobile app enables users to view jobsite images and collaborate with team members remotely.
---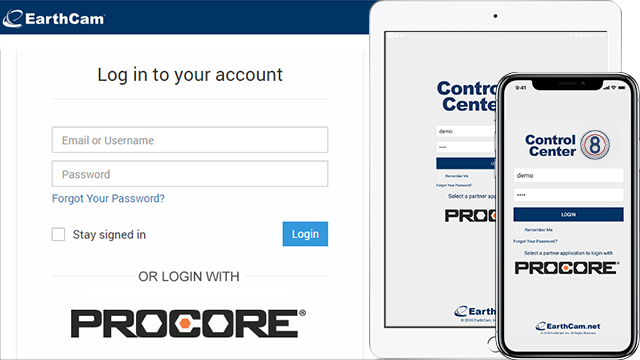 EarthCam has implemented single sign-on (SSO) for Procore. Users have the ability to access and view their EarthCam construction camera content in Procore. Please note, you must be an EarthCam managed services client in order to login using your Procore user name and password. For assistance with creating a new EarthCam Control Center 8 account, click here.​
---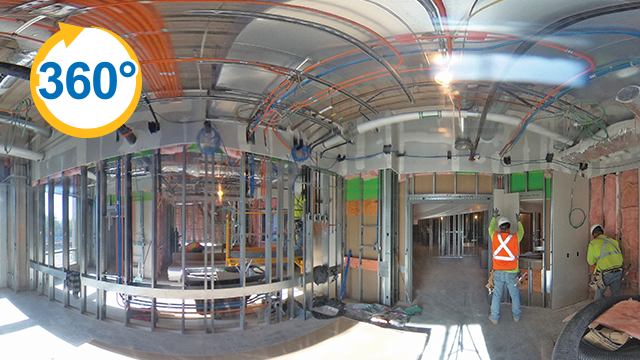 View Your Jobsite from Every Angle
360° photos, videos and time-lapses of the jobsite add a unique interactive element, where the user can pan around the jobsite for a comprehensive view of progress. One 360° photo viewing all four walls, floor and ceiling provides as much information as 8 separate photos, making this efficient imaging technology a smarter way to communicate interior progress while guarding against future claims and disputes.

For more information on 360° VR Kit, click here.
---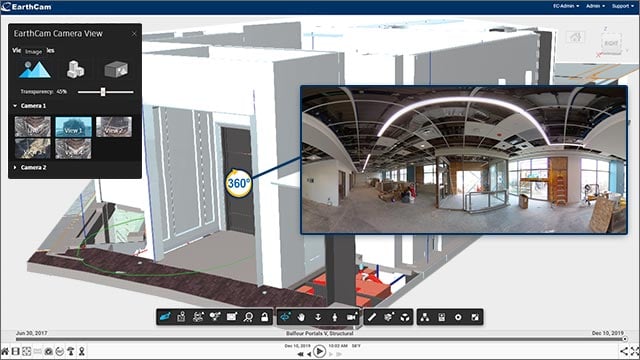 Image Comparison Against 3D/4D Models
EarthCam's software features support for models including Autodesk Navisworks, Revit and & Bentley Synchro 4D models. Users can view their EarthCam jobsite cameras and imagery in relation to models, perform as-built to as-designed image comparisons and execute measurement functions between webcams images, 360° reality capture photography and 3D or 4D models.
---