A historical image gallery more valuable than blueprints
A visual record of pre-existing and as-built conditions for dispute resolution and maintenance.
EarthCam provides construction photo documentation Software as a Service (SaaS) to easily organize, manage and share jobsite images. The simple, searchable library of inspection-grade images makes it easy to communicate punch lists and confirm compliance with an indisputable photo record. Geotagged images can be marked and overlaid as a virtual x-ray, comparing different stages of construction. This ongoing maintenance tool provides companies with a historic document of critical structural, mechanical, electrical, plumbing and fire systems.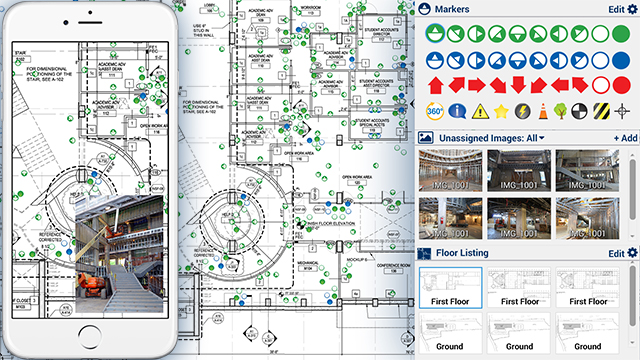 ---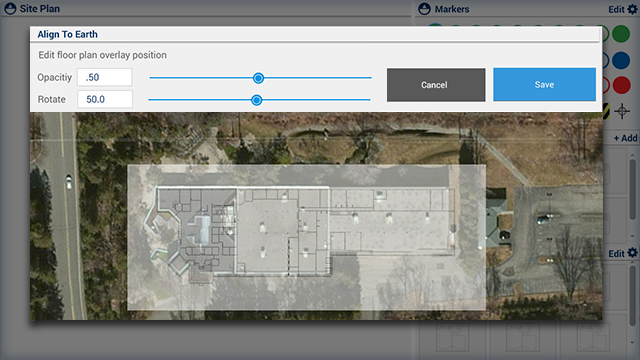 Easy to Upload Plans and Photos
First, upload your site plans or technical drawings – you can add new or revised drawings at any time. Second, simply drag and drop any photos directly into your site plans for an interactive visual record of your jobsite. You can also depend on EarthCam's network of on-site photographers to capture important milestones during your project.
---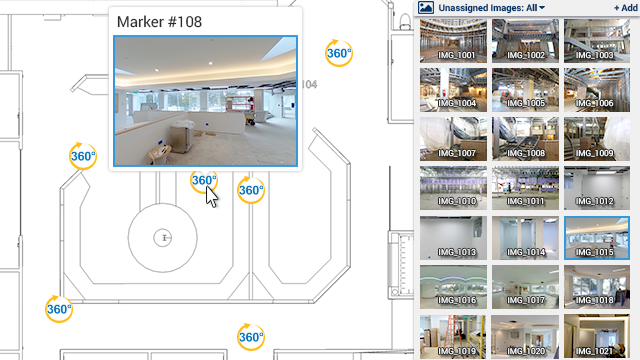 Photo Assignment
The photographs of your project can be uploaded, integrated into electronic blueprints and assigned to specific markers. EarthCam's advanced software automatically geotags the images, which lets you quickly move on to photograph the next area of your project.
---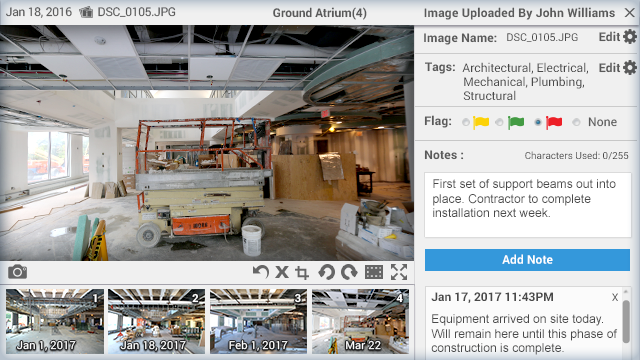 Image Viewer & Photo Editing
Easily travel from marker to market by navigating through the Site Map Image Viewer. Glance at your project's progress by viewing all archived images for each marker on your site plans. This visual record acts as a virtual x-ray of the jobsite, creating an indisputable record of as-build and pre-existing conditions. With user-friendly editing tools, it's simple to rotate, crop and mark-up any of your photos.
---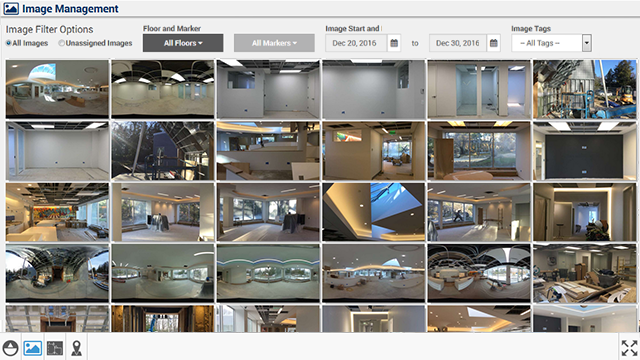 Image Management Tools
Easily store, view and manage all of your jobsite images in one central location for accelerated analysis and enhanced team collaboration. The simple, searchable library of inspection-grade images can be indexed by date, trade, keyword and punch list.
---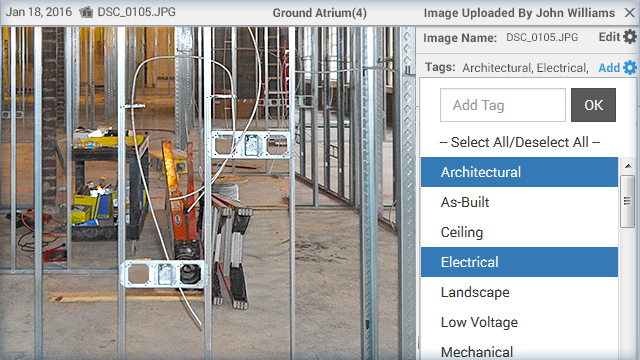 Image Tagging
Add notes, tags and flags to your uploaded images for efficient search and filtering purposes. Assign tags to each image, such as mechanical, plumbing or structural. You can also highlight certain images by assigning a colored flag (red, amber or green) to indicate an urgent issue or mark an important milestone. Search, filter and view only images marked with those specific tags and create a virtual punch list for quick analysis and progress reports.
---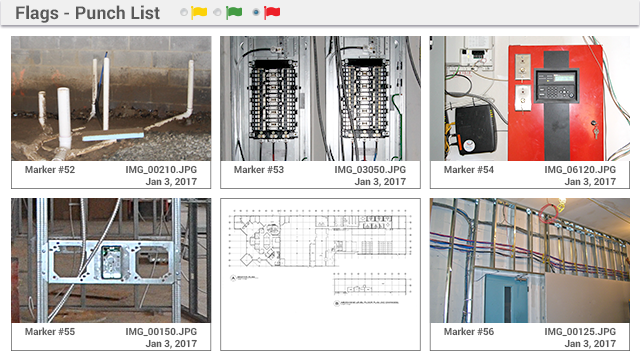 Virtual Task/Punch List
Assign special flags to your different jobsite photos and prioritize tasks to create a virtual punch list. Sort and filter your flagged images and create a progress report based around these photos to share key information with colleagues. Make it easy to communicate punch lists and confirm compliance with an indisputable photo record.
---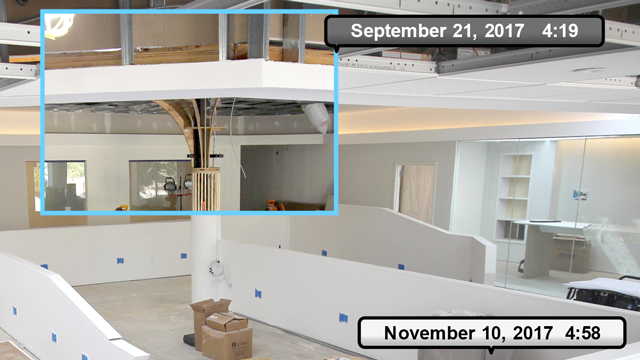 Analyze and Compare Images
Images can be marked and overlayed as a virtual x-ray, comparing different stages in construction. With this unique tool, project teams can take a look behind the walls to ensure that all work is being performed properly. Taking this proactive measure will ensure that building owners and operators have an accurate and reliable as-built photo record for an ongoing maintenance reference.
---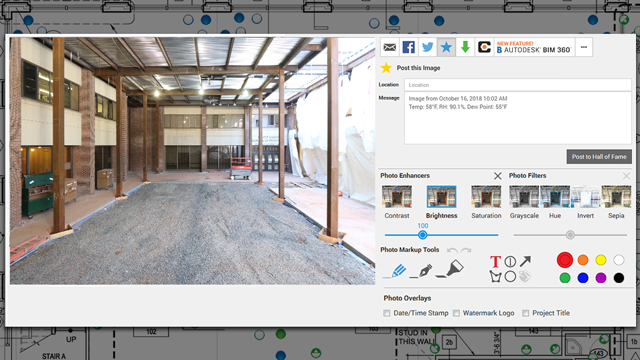 Email and Share Images
Save, email and share photos in real time with team members. Discuss potential jobsite issues before they occur to save time and money. Provide architects, engineers, project developers and contractors with all the necessary visual information to make quick decisions. Share "beauty shots" of your project as a marketing tool on social media.
---
Map Integration
View your floor plan's real-world position with our interactive maps to seamlessly integrate geotagged images into your site plans.
---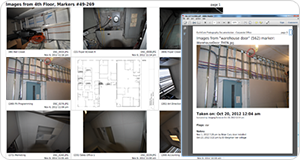 Progress Reports
Share auto-generated PDF reports containing your jobsite images and floor plans with project team members for unified communication. Identify potential issues and discuss jobsite obstacles by analyzing key information. Include the entire project or select a specific date range and view images from all your markers or only images associated with certain flags for presentation-ready reports.

---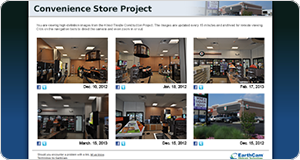 Showcase Progress
Market and promote your project by sharing progress images on a public webpage. Let the community watch the construction process and provide updates on project milestones to generate awareness. Share beauty shots with owners, future tenants and the community on your website or social media for a powerful and positive impression of your work.
---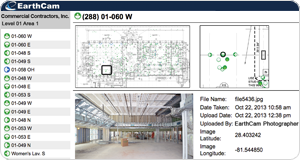 End of Project Report
An End of Project Report will be sent out once a job is complete. The report includes all of the floor plans, marker data, images, image notes, image tags and historical weather data collected throughout the duration of your project. Access the information to navigate through the entire jobsite, export images at full resolution and quickly find specific details.
---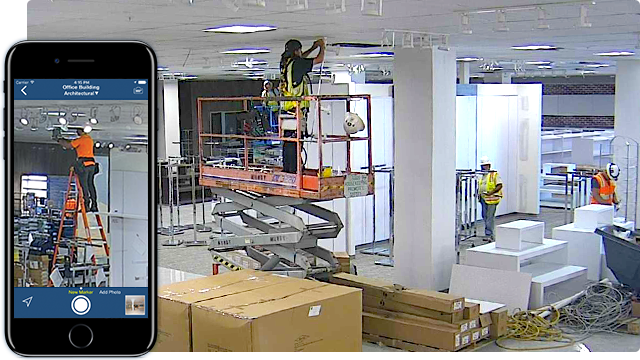 Download the professional construction photo documentation app specifically designed to help project teams photograph and organize jobsite images from anywhere. Use your iPhone, iPad or GPS-enabled camera to take as many photos as you like, transcribe notes and geotag the images. It's the simplest way to communicate progress from your jobsite.
---