Effective Security Relies on Intelligent Video
View, verify and respond utilizing AI object recognition
Live Streaming & Continuous Recording
Rapid Deployment
Live Streaming & Continuous Recording
Rapid Deployment
Central Station Monitoring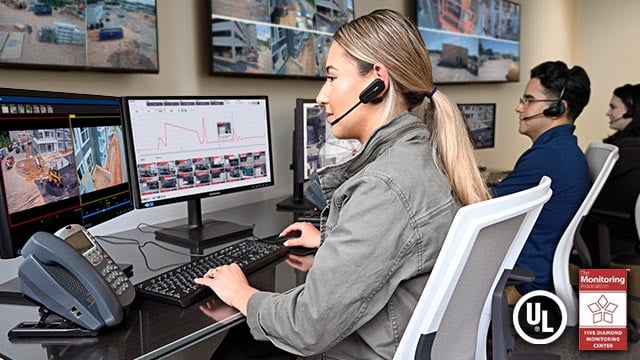 Central Station Monitoring
Keep your jobsite secure during non-construction hours with UL Listed, Five Diamond Central Station Monitoring Centers, where professionals review AI detected incidents, assess the risk and dispatch law enforcement when necessary.
---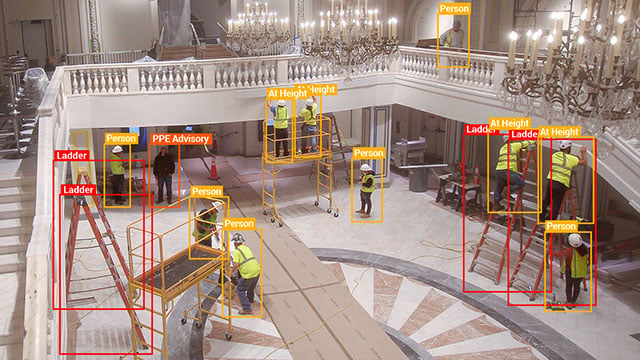 Optimized using billions of jobsite images, EarthCam's AI is extremely accurate, helping you deter theft, eliminate false alarms and reduce costs. The cause of the alert is clearly communicated - including the number of people, what type of vehicle, or interactions with equipment.
---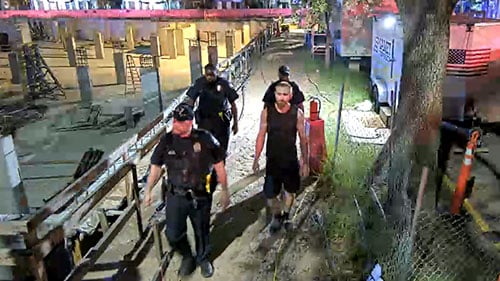 Use thermal and AI camera options to create a 'digital fence'. Talk-down capabilities and a deterrent strobe warn intruders on entering a designated zone. Alerts are sent to EarthCam's Central Station Monitoring (CSM) where trained professionals view, verify and respond.
---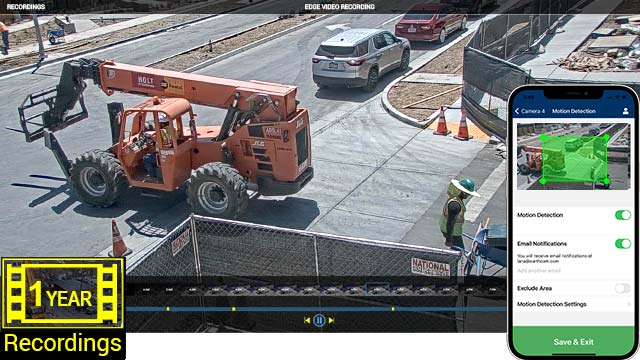 Record your entire project with secure 256 bit AES encryption in up to 4K resolution, using the Edge Video Recorder (EVR). Retain up to 365 days - a full year of video.
---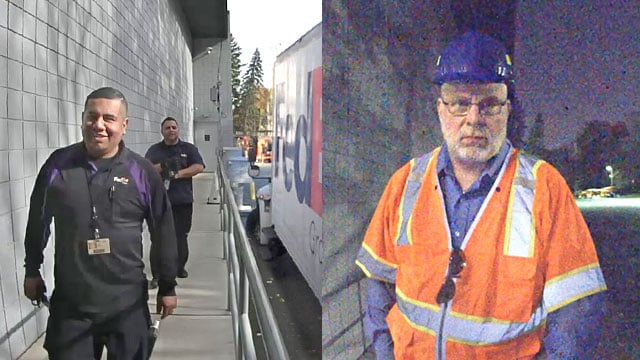 Manage site access and actuate a door or gate with DoorCam and two-way voice communication. Photograph front-of-house and back-of-house visitors in Procore Visitor & Delivery Logs. Automatically create permanent visual evidence of jobsite access and deliveries.
---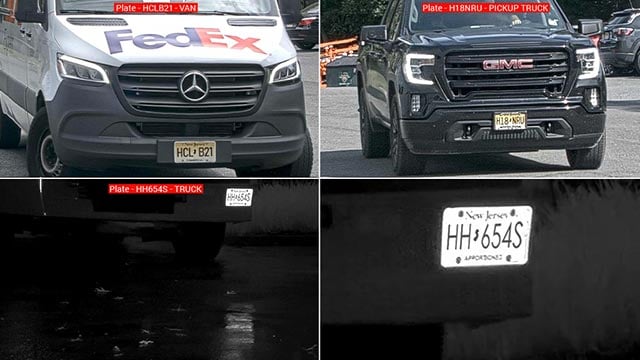 Identify authorized and unauthorized vehicles by their plates using optical character recognition, even when moving quickly, or at night. Automatically control access, disable alarms, verify deliveries and send alerts to management. Record a log of every license plate that enters/exits the jobsite.
---
---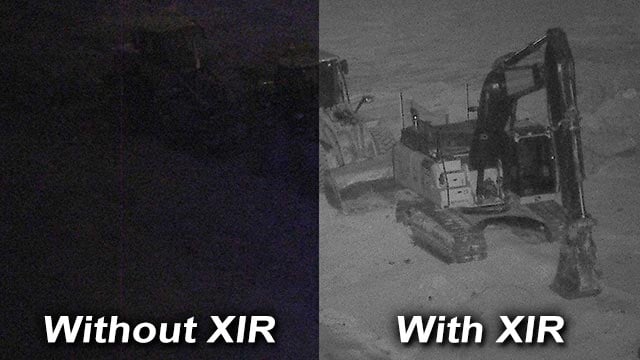 Surveil areas even in complete darkness with EarthCam's integrated night-vision. Reveal night-time activity even in large open areas without lighting. Systems automatically switch to night mode and provide superior long-range IR Illumination.
---
Thermal Imaging for Accurate Detection
Thermal Imaging for Accurate Detection
Thermal cameras provide another level of visibility for the jobsite for 24/7 surveillance, detecting intruders in complete darkness, fog, smoke, rain or snow. Thermal cameras provide a reliable and cost-effective way to verify critical situations, such as equipment overheating, or elevated interior temperatures.
---
Feel confident that your entire jobsite is secure with continuous live views of activity. Verify access control for important areas or critical infrastructure from any location. Review and analyze video recordings to protect your assets.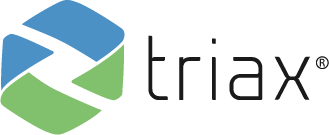 ---
Powerful, Secure Collaboration with Control Center 8
EarthCam's Software as a Service (SaaS) powers your visual information ecosystem for advanced construction camera management and security.
Take control of your visual data
Access remotely and safely from anywhere
View secure, encrypted live video via https
Custom multi-view camera grid
365 days continuous HD video recording
Set up include/exclude areas for detection
Receive alerts for loitering or left objects
Auto-identify objects crossing a perimeter
Access current and historical weather data
Email, save & share content
Integrate with site map/satellite map
Streamline admin with single sign-on (SSO)
Continuous, unlimited support & training